When to go – Late May to Early September
If you're lucky enough to be going on a cruise to the Baltic region, you'll discover a kaleidoscope of cultures, languages, fjords, capitals – and so much more. In fact, many say that cruising is the only way to explore the unbelievable beauty of Northern Europe, which is one of the world's most dynamic cruise destinations.
A Baltic cruise typically takes in the Scandinavian countries of Sweden, Denmark, Norway and Finland, the Baltic states of Lithuania, Latvia and Estonia, and the jewel in the crown, St Petersburg.
One of the best things about a Baltic cruise is that it will take you to the heart of the region's culture-rich cities. Highlights include the beauty of Stockholm – smattered over 14 islands, Riga's stunning UNESCO-listed Old Town, the plethora of museums in Helsinki and the gateway to the fjords of Norway – Bergen.
Some Baltic cruise companies offer an overnight stay in St Petersburg, Russia's delightful second city. Packed with over 100 museums, striking cathedrals and stylish streets, you could even treat yourself to an evening of Russian ballet while you're in town.
With breath-taking architecture, fascinating history and a wealth of old-world charm, a Baltic cruise allows you to glimpse into the soul of this intoxicating destination.
As for the best time to visit, the high season runs from late May to early September, when temperatures are balmy and the ports fill up with people. While the low season runs from May to early June, and late August to September, where temperatures are a bit lower, but you'll avoid the summer crowds.
Tallinn
Expect an intoxicating mix of ancient church spires, baroque palaces and old wooden houses which sit alongside glass skyscrapers, shiny shopping malls and cafes sitting on sunny, cobble stoned squares.
Despite the building boom of the 21st century, Tallinn retains its medieval past and fairy tale charm, especially in the UNESCO listed Old Town. Classy restaurants, trendy hotels and well frequented galleries and museums, cafes and restaurants make a city break in Tallinn a gorgeously sophisticated experience.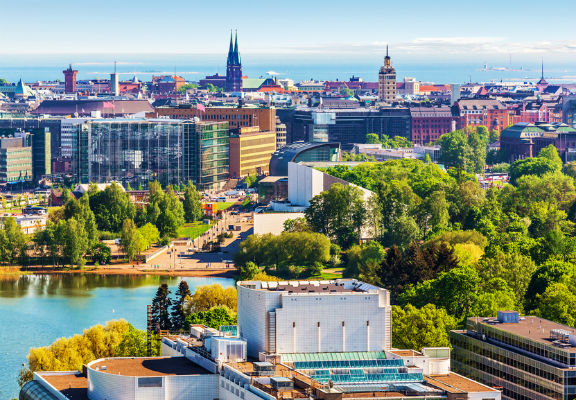 Helsinki, Finland
In an unassumingly stylish way, Helsinki packs an exotic mix of Russian, Scandinavian and Simi into one city. The influence of the sea is also characteristic and, unusually for a city of its size, Helsinki boasts an incredible 315 islands and nearly 100 kilometres of coastline. Many of its main attractions are therefore located by the water: from the UNESCO-listed Suomenlinna sea-fortress to the wonderful beaches of Uunisaari and Pihlajasaari islands – there's so much to admire in Helsinki.
The seafood restaurants are second to none – try whitefish, perch, pike-perch or salmon, and don't miss the legendary crayfish season which starts in August. The city is not short of Michelin-starred restaurants so you'll have plenty to choose from for that special meal out. Non-meat and dairy eaters can also enjoy dining in style in Helsinki at the variety of vegan and vegetarian restaurants dotted around the city.
St Petersburg
St Petersburg, known as 'Venice of the North' contains various canals and more than 400 bridges within the city. With its UNESCO-listed Historic Centre, Winter Palace, Saint Isaac's Cathedral and Church of the Savior on Spilled Blood, it's no surprise that St Petersburg's architecture is one of its main attractions. The city also embraces its many charming parks, including the Alexander Garden – St Petersburg's most central park, home to an illuminated musical fountain and the Botanical Gardens home to numerous beautiful plants, and being Russia's only botanic gardens.
When eating out in St Petersburg you'll be spoilt for choice, it hosts several Michelin starred restaurants around the city and is vegetarian friendly with it hosting many vegan and vegetarian restaurants.
Meet ups are a great way to share your experience, exploring St Petersburg with other travellers and locals. Whether backpacking or staying in luxury, there's plenty to see and do that will accommodate all.